Designer: Ingo Maurer
Manufacturer: Ingo Maurer
Size: 65 см H, 6см up to 95 см DIA
Material: metal, goose-feather wings
Light Bulb: 10 x 10W halogen
Полезная статья: «Как купить светильники Ingo Maurer недорого и со скидкой».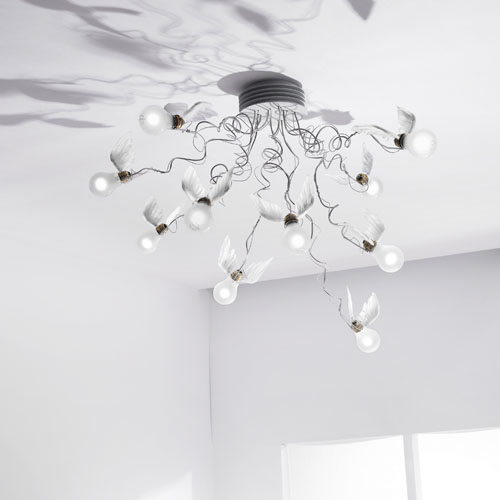 Quick, the lights are flying away! The Birdie's Nest Ceiling Lamp is a stunning unique modern piece from Ingo Maurer! Birdie's Nest, designed by Ingo Maurer, is a visually stunning & brilliant conversation piece. Each light bulb is attached to its own set of goose feather wings, each in its own bid to escape.
Metal, goose-feather wings.Ten low-voltage bulbs (not halogen). 230/125/24 volts, 150 watts (10 x 15 watts). Canopy with two built-in transformers. Transparent cables. Complete with bulbs plus 2 spares. Birdie's Nest is designed for rooms with lower ceilings.
Size: 19.7"H, 20" up to 37.4"DIA
Material: metal, goose-feather wings
Light Bulb: 10 x 10W halogen
Bulbs included: Yes!