люстра Centrum Lamp by Poul Henningsen
- 10 shades mounted on 4 legs - Light source located at bottom of fixture - High architectural adaptability - Created for high ceiling spaces - Provides glare free & indirect illumination
Design by Kurt Nørregaard based on sketches by Poul Henningsen. LP Centrum provides high-ceiling spaces with glare-free and indirect lighting. An integral aspect of the design, the 10 shades are designed according to the mathematic curve lituus. The philosophy behind the luminaire is to provide light for spaces, horizontally and vertically alike.
Finish White, wet painted.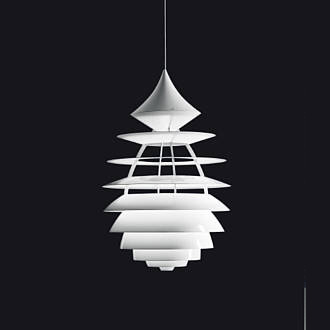 LP Centrum consists of 10 shades, which have been designed according to the mathematic curve called lituus. Four legs hold these shades. The legs contain the wiring for the light source located at the bottom of the fixture. The design expression of the fixture makes it a born classic. It fits into classical as well as contemporary architecture.
Design: Poul Henningsen Kurt Norregaard
Manufacturer: Louis Poulsen
Also check: Kurt Norregaard designs
Poul Henningsen designs
Louis Poulsen products
trum Lamp