кресло mr lounger (кожа)
Размеры -
Высота : 94 cm
Глубина : 220 cm
Ширина : 72 cm
Вес: 32 kg
Дизайнер - Mies van der Rohe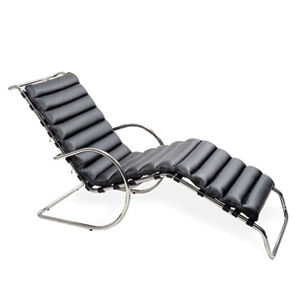 Ludwig Mies van der Rohe's MR Chaise Lounge was designed in 1927 as part of his contribution to the Weissenhof exhibit in Stuttgart, Germany. The chair's cantilevered design uses tubular steel, then a technological novelty, to create an intuitively accessible and ergonomic seat. (When asked why he created chairs with generously sized seats, Mies van der Rohe allegedly replied that he designs chairs he'd be most comfortable sitting in.)
The MR Chaise Lounge, still made to his specifications, is perfectly balanced, featuring the material innovation and lack of ornamentation that epitomize the International Style. The Chaise Lounge is manufactured by Knoll® according to the original and exacting specifications of the designer. Made in U.S.A.
The MR Collection includes side chairs, armchairs and lounge chairs.

This fully licensed classic was awarded the Museum of Modern Art Award in 1977 and the Design Center Stuttgart Award in 1978.

The KnollStudio logo and Mies van der Rohe's signature are stamped on the inside of one leg.
Tubular polished stainless steel; Spinneybeck® Volo full-grain, semi-aniline leather upholstery.
Upholstered chaise with polyurethane foam cushions and tubular chrome frame. Suspension with hide leather straps.